All our professionals at Vero Beach Dental Care maintain the highest levels of accreditation and pursue ongoing education to stay abreast of the latest standards in dentistry.
Roger D. Clay, D.D.S.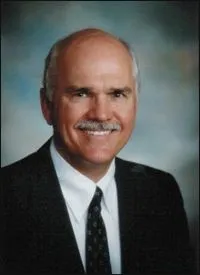 Dr. Roger D. Clay was born and raised in Beckley, West Virginia. In 1978 he received his dental degree from West Virginia University School of Dentistry where he was distinguished as an honor graduate. He is an alumnus and associate member of Omicron Kappa Epsilon Honor Dental Society. He is a graduate of the General Practice Residency at Eisenhower Medical Center in Augusta, Georgia.
Dr. Clay is a retired Lieutenant Colonel from the U.S. Air Force Reserve, having served four years as an active duty pilot and four years as an active duty dentist.
Prior to coming to Vero Beach, Dr. Clay established a solo private practice in his home town of Beckley, West Virginia where he practiced for 20 years.
In April 2002 Dr. Clay completed his Florida Dental Boards. He opened a state-of-the-art dental practice in the Bridgewater Building 'A' on Indian River Boulevard in Vero Beach.
Through continuing education, state-of-the-art equipment and a well-trained, caring, conscientious staff, Dr. Clay's goal is to restore your dental health and assist you in maintaining a healthy smile for a lifetime.
On his days off, Dr. Clay and Susan enjoy fishing on their boat, cleverly named, Seadation, and riding their eBikes around Vero Beach. Recently Dr. Clay and Susan have joined the "Grady Bunch," a group of local boaters that love to be on the water, especially on their Grady-White boats. So far, they have traveled to the Bahamas, the West Coast of Florida, the Keys, and all points in between.
---
Morgan E. Clay, B.A., M.S., D.M.D.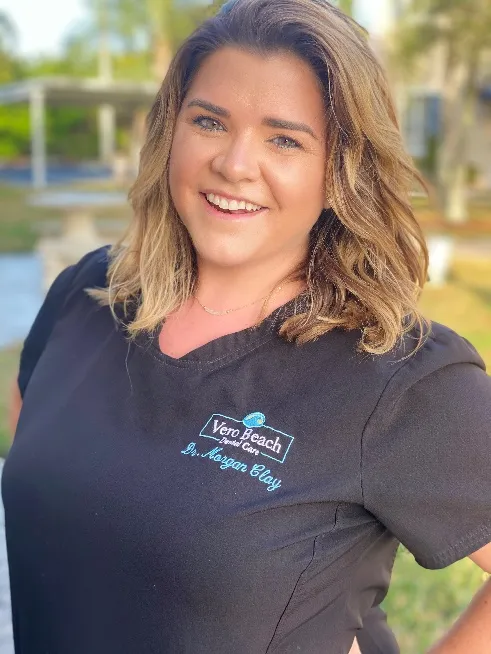 Dr. Morgan E. Clay was born and lived in Beckley, West Virginia and at age twelve moved to Vero Beach, FL in 2002. She attended grades 7-12 at Saint Edwards School and then continued her education at Rollins College where she graduated in 2012 with her Bachelor of Arts and Science in Biochemistry. She then attended the University of South Florida where she completed her Masters in Biomedical Sciences in 2013. In the spring of 2013, Dr. Morgan Clay was accepted into LECOM School of Dental Medicine in Bradenton, FL. She spent the first three years of school in Bradenton and then worked at an outreach clinic in Defuniak Springs, Florida her fourth year, before graduating in June 2017. She joined Vero Beach Dental Care in June 2017 to practice with her father, Dr. Roger Clay in his practice that was started in 2003.
While attending dental school, Dr. Morgan Clay was an active member of the Florida Dental Association (FDA) and the American Student Dental Association (ASDA). She volunteered frequently at the Florida Missions of Mercy and Remote Area Medical events where she performed various dental procedures at no cost to patients. In order to better serve her patients, Dr. Morgan Clay continues her education through advanced courses in both general, cosmetic and sedation dentistry.
It was always her dream to work side by side with her father, Dr. Roger Clay, and together they are dedicated to providing their patients with the highest quality care available in the most comfortable way possible.
In her time off, Dr. Morgan enjoys spending time with her fiancé fishing and kayaking. They love to explore the different waterways our beautiful Indian River Lagoon has to offer. You will also find Dr. Morgan in the kitchen quite often creating a savory and delicious dinner, or a sweet dessert! The VBDC staff loves this the most, as they are often her taste testers!
---
Susan Clay, Office Manager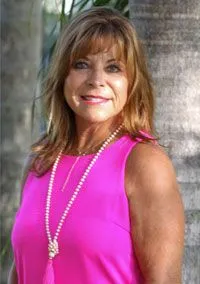 The loveliest office manager there ever was, Susan Clay hails from Whitesville, West Virginia. Susan has been with Vero Beach Dental Care since its birth, welcoming new patients and ensuring every patient is made to feel right at home.
Susan coordinates all insurance processing and assists patients in making financial arrangements for their dental treatment. Her compassion and bubbly personality help to make any paperwork as painless as the dentistry performed at Vero Beach Dental Care.
---
Riki McKinney, Patient and Insurance Coordinator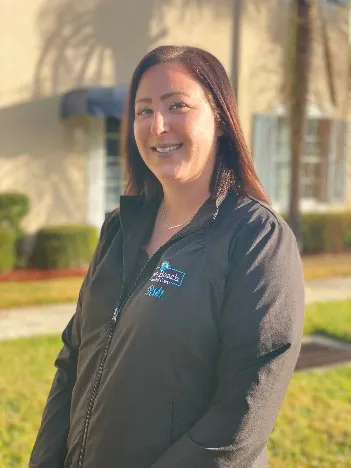 Riki was born and raised in Cleveland, Ohio. She moved to Florida in 2017 and lives in Sebastian with her husband, daughter and fur child, Apollo.
She loves the chaotic, busy life with her family, but when time allows, they are on their boat fishing or at the beach soaking up the sun and sand. Riki has been working in the dental field since 2008. She truly enjoys what she does and is passionate about making your experience at VBDC as smooth as possible.
---
Kelly Henry, CRDH, BASDH, MDH.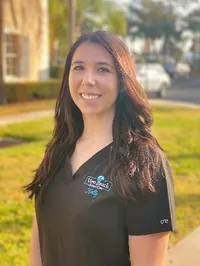 Kelly joined our family at Vero Beach Dental Care in January 2018. She grew up in Jensen Beach, Florida and earned her Dental Hygiene degree from Indian River State College. Kelly is a member of the IRSC Dental Advisory Board and loves volunteering at her Alma mater. She earned her Bachelor's degree from St. Petersburg Collge and most recently her Master's degree from the University of Tennessee in 2017. Kelly is a caring person that strives to make her patients comfortable and ensure that they have an enjoyable dental visit! She is very passionate about helping people understand the importance of their oral health. In her spare time, she enjoys spending time with her husband, boating and traveling.
---
Melissa Presutti, C.D.A.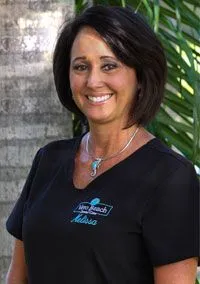 Melissa was born in Massachusetts, but has lived in Florida since 1974. She resides in Ft. Pierce with her husband, two children, and a few dogs! She enjoys her family's very busy baseball and softball life. She loves the salt life Florida has to offer, so a day at the beach with her feet in the sand is priceless!
Melissa earned her dental assisting certification at IRSC in 2003. She takes great pride in assisting Dr. Clay and caring for our patients at Vero Beach Dental Care!
---
Sara Garman, Dental Assistant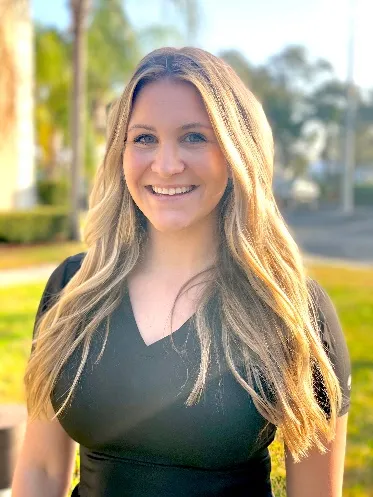 Sara was born in Ft. Pierce Florida. She now lives with her husband and two children in Sebastian. She enjoys working out with her family and spending the weekends watching her son play t-ball.
Sara earned her dental assisting certification at DAA in 2018. She takes great pride in assisting Dr. Morgan Clay and caring for our patients at Vero Beach Dental Care!
---
Bogey, Office Mascot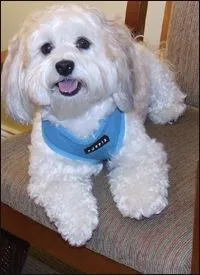 Bogey Clay joined the team in March 2007 and is now firmly established as the meeter, greeter to all patients at Vero Beach Dental Care.
Bogey is enthusiastic about his crucial position at the office and enjoys welcoming patients and receiving adoration.
---
Louis Clay, Office Mascot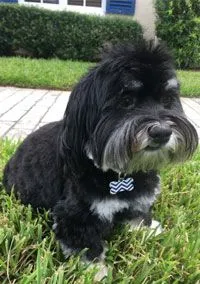 Louis Clay joined the team in June 2017 and now gets to share the role as the meeter and greeter to all patients at Vero Beach Dental Care.
Louis will always greet patients with a smile and a tail wag and he will never turn down treats or a tummy rub!
When he is not at the office he enjoys long walks outside, chasing the ducks in his backyard and playing fetch with his favorite hedgehog toy!