Posts for category: Dental Procedures
By Vero Beach Dental Care
February 16, 2012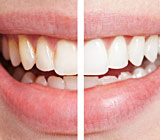 Your smile is one of the first things people notice, but if your pearly whites have lost their luster, chances are you might be hesitant to show them. As we age, our teeth naturally darken, and certain substances can leave teeth stained or discolored, making you appear older. One easy way to turn back the clock is to have your teeth whitened; a safe, painless, and non-invasive way of achieving a young, healthy-looking smile.
Causes of Tooth Discoloration: Exposure to high-levels of fluoride and taking tetracycline antibiotics during childhood can stain the teeth's structure. Smoking cigarettes and using chewing tobacco can also cause tooth discoloration, as well as foods containing tannins such as red wine, coffee and tea. In addition, poor brushing techniques and not flossing regularly cause bacteria to build on teeth resulting in yellow stains.
The Whitening Process: Our office can help you to achieve a brighter smile using either an in-office procedure or an at-home whitening kit. We can help determine the best treatment for your budget, time frame and individual needs. If you choose to have professional whitening done in our office, we will utilize a prescription strength gel sometimes even activated by a concentrated light source. This procedure offers immediate and long-lasting results in less than an hour. After a single treatment, teeth are typically six to ten shades lighter and with proper maintenance, can last five years or longer.
At-Home Results: For those seeking more gradual results, another option is to use custom-fit trays, which our office will make for you to use at home to whiten your teeth. This is generally less expensive, and is very effective at lightening teeth several shades, although it may take a week or longer to see optimal results.
Choosing the Best Procedure: For some people, teeth whitening may not offer adequate results. If you have thin enamel, chipped, uneven or crooked teeth, we may recommend applying porcelain veneers to restore your damaged teeth. Veneers are bonded to the front of teeth to give your smile a straighter, more uniform appearance.
Contact us today to schedule an appointment to discuss any questions you may have regarding teeth whitening. Read more about this topic in the Dear Doctor magazine article "Teeth Whitening: Brighter, Lighter, Whiter."
By Vero Beach Dental Care
January 31, 2012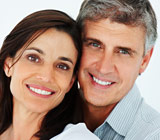 Dental implants traditionally have a high success rate with numerous studies showing long-term success rates of over 95%. This is just one of the reasons they have been widely accepted as the best method for permanently replacing missing teeth. In fact, over-dentures, which are full dentures supported and stabilized by at least two dental implants, are now considered the standard of care by the American Dental Association (ADA) for people who have lost all of their teeth in one or both jaws. And while they have a high success rate, there are some factors that can compromise the success rates of implants.
These factors are generally divided into three categories: general health concerns, local factors, and maintenance issues.
General health concerns: Your general health, lifestyle, and habits can play a major role in the success of dental implants. For example, smoking, diabetes, osteoporosis (porous bone) or a compromised immune (resistance) system can all negatively impact implant healing and success. And if you have a history of radiation treatment to your jawbones, you are at a higher risk for complications.
Local factors: Some examples of local factors that can affect implant success include bone quality and quantity — having sufficient bone in the right place to accurately secure and locate the implants.
Maintenance issues: While implants are excellent high tech replacements for missing permanent teeth, they do require routine maintenance. This includes daily cleaning and continued professional care. Otherwise, implants are just like any other technically sophisticated devices — they may be susceptible to breakdown.
To learn more about dental implants, read "Dental Implants, Your Third Set Of Teeth." Or if you prefer, you can contact us to discuss your questions or to schedule an appointment.
By Vero Beach Dental Care
January 23, 2012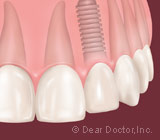 If you've lost one or more of your teeth due to tooth decay, trauma, gum disease or a failed root canal, there are a variety of ways that our office can help you to restore your smile and increase your confidence. Crowns, conventional bridges and dentures aren't your only options for replacing missing teeth. Dental implants, surgically placed below the gums, are another alternative for replacing missing teeth.
Getting Started: If you would like to explore the option of having dental implants to replace one or more teeth, you will first need a comprehensive exam. The ideal candidate for implants is in good general and oral health. Adequate bone in your jaw is needed to support an implant. Smokers and those with uncontrolled chronic diseases like diabetes may not be good candidates for dental implants because healing may be impaired or slow. In addition, dental implants aren't appropriate for children or teens until their jaw growth is complete.
The Process: Dental implant surgery can be performed in our office using either a local or general anesthetic. The implants actually replace tooth roots; they are placed into the bone surgically. Generally made of commercially pure titanium, this metal has the remarkable ability to fuse with the bone as it heals forming a union known as osseointegration ("osseo" – bone; "integration" – to fuse with). This process takes two to six months depending upon many factors of which bone quality is the most important.
The next step is to place an abutment (a small connector) which attaches the implant to the crown. The crown is the part of the tooth that is normally seen in the mouth above the gums.
Assessment of your individual situation and deciding if dental implants are right for you takes knowledge and experience. Contact us today to schedule an appointment to discuss any questions you may have regarding dental implants. Read more about this topic in the Dear Doctor magazine article "Dental Implants: Options for Replacing Missing Teeth."